Our Three Pillars
The Arctic Eider Society (ᐃᓄᐃᑦ ᒥᑎᓕᒻᒥᐅ), a registered Canadian charity based in Sanikiluaq, Nunavut, works with communities across Hudson Bay and Inuit Nunangat.
Environmental and social justice issues in the Arctic are deeply interconnected and the best solutions are Indigenous-driven. The Arctic Eider Society delivers programs that build capacity and self-determination across the following three pillars: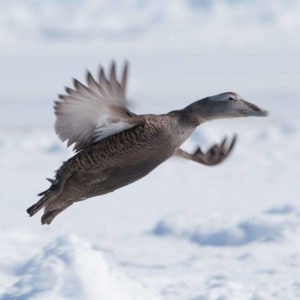 Our Story
Eider down is the warmest feather in the world – nature's technology for storing heat and surviving cold Arctic winters. A critical source of food and clothing for Inuit on the Belcher Islands, the eider duck represents the proverbial 'canary in the coal mine' for environmental change in Hudson Bay.
The Arctic Eider Society's interdisciplinary programs now include many different aspects of sea ice ecosystems, but it all started with a community-driven research project filming eider ducks diving under the Arctic sea ice in winter.
Fascination with the connections between new and old technology is a theme running through much of our work, including People of a Feather, the 16x award winning film that catalyzed our charity. Eider down is the perfect reminder that new doesn't always mean better when it comes to high-tech. For us, this means finding novel ways to link Indigenous knowledge and science, bridging quantitative and qualitative ways of knowing. Reminding us of our roots, eider down continues to be our inspiration for embracing Inuit ingenuity and knowledge with innovations led by northerners, for northerners.
While our Inuit-led teams are out on the ice using high-tech oceanographic gear, drones and mobile apps to capture observations of environmental change, you can bet that we're still using a harpoon to check the ice and wearing eiderdown to stay warm.